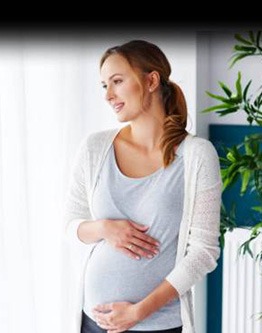 Obstetric ultrasound uses sound waves to produce pictures of a baby (embryo or fetus) within a pregnant woman, as well as the mother's uterus and ovaries. It does not use ionizing radiation, has no known harmful effects, and is the preferred method for monitoring pregnant women and their unborn babies. A Doppler ultrasound study – a technique that evaluates blood flow in the umbilical cord, fetus or placenta – may be part of this exam.
OBSTETRIC ULTRASOUND STUDIES
First-trimester ultrasonography is a commonly performed exam by an obstetrician or healthcare provider within the first 14 weeks post-conception. 
An ultrasound scan performed between 18 and 22 weeks gestation (also known as the second-trimester anatomy scan or the anomaly scan) is a routine examination in many countries that's aimed primarily to assess fetal anatomy and detect any fetal anomalies. A two-dimensional grayscale ultrasound with a curvilinear transabdominal probe is routinely used to evaluate the fetal number, viability, gestational age, anatomical survey, placental location, amniotic fluid, and maternal pelvic organs.
The third trimester is defined as the antenatal period between 28 and 42 weeks of gestation. The use of ultrasound in the third trimester of pregnancy serves a multitude of general and specialized purposes that include but are not limited to the determination of fetal number and presentation, assessment of growth disorders, and characterization of the placenta and amniotic fluid.
WHAT OBSTETRICAL ULTRASOUND CAN DETERMINE